Road Racing & TT's
The most popular type of cycling still takes place on the roads with a wide variety of events to suit all types of cyclists.  There are great rewards in joining a group of like minded individuals to cycle along routes both familiar and new.  For more information about how Dromara Cycling Club could help encourage you out on your bike more often or for longer durations please contact Martin Grimley,  club secretary on 07899913865 or via email martin@dromaracc.co.uk
Weekend Runs
Club members would meet up on Saturday and/or Sunday for a cycle run for a few hours with a stop for a snack along the way.  With the variety of cyclists we have in the club there should be a group that will suit those who are only starting out in road cycling and those who feel more competitive.  For more details of the weekend runs click here.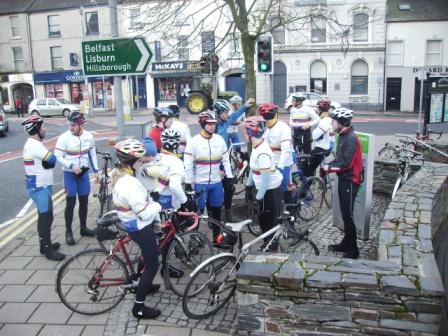 Organised Leisure Tours
On almost every weekend from March through to September at least one cycling club somewhere in the country would arrange a leisure tour.  These tours can vary from flat coastal terrain to hilly challenges, from small groups of perhaps 30 riders to large groups of 1300 riders.  Some of these leisure runs will be organised to raise funds for various charities or good causes while others are to raise funds for the clubs themselves.
Food is usually a big factor in these events as well as good humoured conversation and the sharing of experiences with other cyclists.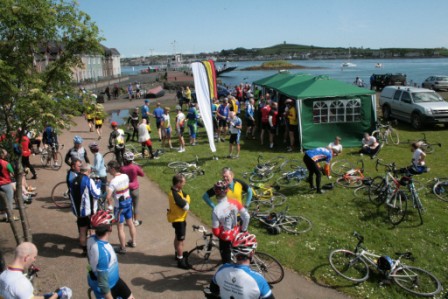 Club League
For those who would like to challenge themselves the club have their Thursday night league which runs from April through to September starting at 7 pm.  The league incorporates time trials, road races and hill climbs.
The time trials are normally along a relatively flat road, heading out and back in the same direction.  Competitors are separated by either 30 seconds or 1 minute depending on the numbers and race against the clock normally over a 10 mile distance but can also be over a 5, 16 or 25 mile course.
The road races are held over a short circuit with competitors separated into groups based on their ability.  With time handicaps on the faster groups with race aims to all come together on the final lap.
For information about the club league click here.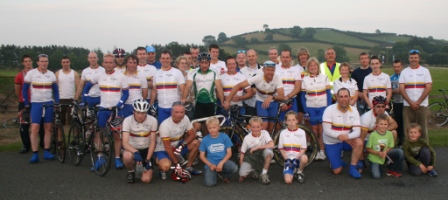 Road Racing
Amongst the members of the Dromara Cycling Club are a few hardy individuals who take part in the road racing season which starts at the end of February and ends in September with the Ulster Road Racing Championships.  The club have had great success throughout the year and have seen a growth in the number of men and women taking part in road racing events.  This type of cycling requires a large amount of training and experience and most riders have gained this through the club league events.
Dromara Cycling Club hold an open road race each year in June.  The Emma McMullan Cup and Ronnie Smyth Cup road races have been awarded over a number of years.  Read reports from these races from the links below.
12 June 2010
13 June 2009
14 June 2008
23 June 2007