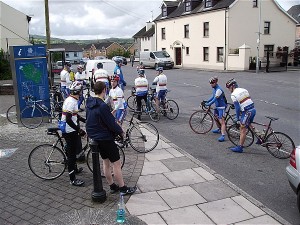 Members of the club meet up at the weekends throughout the whole year to enjoy cycling as part of a group.  The benefits of joining a group include seeing new parts of the countryside, conversation with like minded individuals, advice from other members, and help and assistance with punctures or mechanical issues with the bicycle.  You can also reap the benefits of riding in a group, and gain the confidence and skills necessary to ride safely in close proximity to other cyclists.
As in all clubs, members can have a range of strengths / abilities.  Dromara Cycling Club is no different and would also have 'A' and 'B' groups with the 'A' group the stronger of the two.  The two groups would have different average speeds and distances that they like to do on a run.  If numbers are small the groups combine into one. Leisure groups tend to ride at a slower pace than either the A or B groups.
Saturday
Saturday is the main day for club runs.  We usually have 2 groups ("A" and "B") meeting in the square in Ballynahinch (map) for a 10am start.    The Saturday 'A' group would be for the more experienced and stronger riders who are aiming to use this day as part of their training program.  They would meet at the same location as the 'B' group but would aim to cover a longer or more challenging distance to the café.  Typically the Saturday 'A' bunch would complete around 60 miles over a period of 4 hours with an average speed of 18 mph depending on terrain / weather.  The planned route for the run is usually published in advance on the club Facebook page.
Sunday
On Sundays another "B pace" group leaves the centre of Dromara (map) at 8.30 or 9am (check the club Facebook page for info), and then the Sunday leisure group meets an hour later at 10am for a shorter and more relaxed spin.   The aim of the Leisure group is to ride approximately 40 miles over a 4 hour period including the stop at the café. There they would stop for some refreshments before heading back via a different route.  Some of the cafes used are Mauds in Newcastle, Spinnaker in Strangford and the café in Castle Espie.  The normal fare is hot soup, rolls, buns, tea or coffee and the stop would normally be for 30 minutes.
Tuesday
Most Tuesday evenings there is a shorter 15-20 mile leisure run starting at around 6.30pm in Dromara.  This is the best run for novice riders.  There is also a faster group who leave from the phone box in Anahilt at 6.15pm on Tuesday evenings.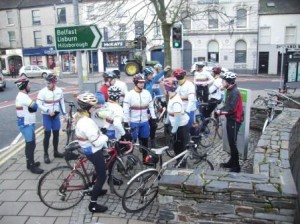 Newcomers
To many newcomers the idea of joining a cycling group can seem daunting but the Leisure and B runs are well used to having visitors joining them.  Nearly all club members have joined through these weekend runs.
Newcomers are always welcome on all club runs, but please try to contact someone in the club to let us know you are coming, in case plans have changed.  The leisure groups on Sundays and Tuesdays are perfect for newcomers.   The average speed would be around 12-15 mph depending on the terrain and weather conditions.  We would ask that you have some basic cycling ability to make the most out of joining a group and that would be to have had experience of cycling 30 miles over a 2 hour duration (i.e. achieving approximately 12 miles per hour), but don't be put off, give it a try!  On your first outing with the club you should ride within your capabilities and if necessary you can back off after 5 – 10 miles if you feel that you would not be able to cope with the distance.  The club members will ensure that you know the route back to base or perhaps give you a shortcut to the café.  Hopefully the next time you join the group you are able to last longer until eventually you are able to stay with the group for the whole day.
Rules of the road
It is important that all members have an understanding of the rules of the road.  Please click on this link to see the relevant parts of the Highway Code.
Tips for riding in groups
Prepare your bike and nutrition in advance
Stick to the rules of the road.  Cycle on the left hand side only
Be predictable, avoid sudden movements, sudden braking
Use signals / shouts to declare direction changes, junctions, traffic lights
Give warnings about road hazards like potholes, glass, parked cars etc
Avoid half wheeling, ride no more than two abreast
Change positions correctly and watch for traffic from behind
Keep the group together, close the gaps and regroup after hills, junctions etc.
What to bring?
Helmet,
Spare tubes, pump, tyre levers
Drink bottles (at least one 500 ml bottle of energy / electrolyte drink).
Money for cafe
Cycling gloves
Mobile phone
Rain coat (all year round)
Mudguards (winter months)
Insurance
You are not required to have insurance to join the group but if you are going to become a regular cyclist then taking out insurance would be wise.  Cycling Ireland provide a range of insurances depending on the type of cycling covered, i.e. leisure, road racing, club races, mountain biking etc.  The minimum insurance cover would provide both third party insurance and personal accident cover.  For more details about the insurance please contact Martin (see contact details below).  The insurance premiums also depend on whether you are in a cycling club or not so we would encourage newcomers to join the club which would also provide you with greater inclusion in the communications sent out from the club etc.
Leisure Tours
Throughout the year, either one or both of the groups may go to a local leisure tour instead of meeting at the above locations.  This would be communicated to the others through the club's message board and/or Facebook.  Check out the message board for more details here.  Otherwise you can contact Martin Grimley, club secretary on 07899 913865 or via email martin@dromaracc.co.uk