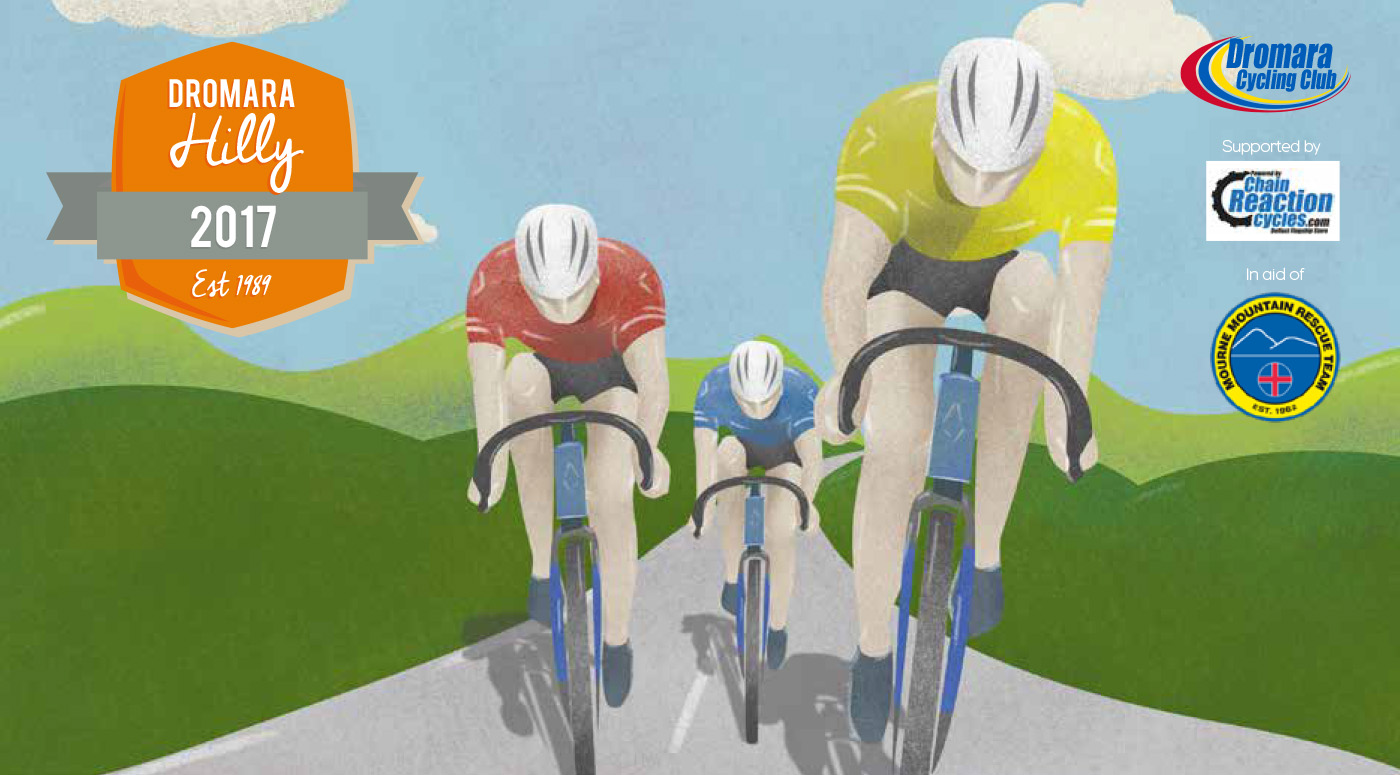 Dromara CC's annual "Hilly" Leisure cycle will be on Sunday 13th August 2017. This event has become well established over the years and is now a well known mainstay of the leisure cycling calendar.  A tough but rewarding cycling test, the Hilly is an excellent "target" event for those riders who want to set themselves a challenging sportive as a goal for their summer training.
This year the event will offer a choice of two routes,  125km and 85km. The full distance event, originally known as the "Hilly 125" is now in its 28th year and has historically been the more popular of the two distances on offer. To help you decide which route to chose, see our helpful guide at the bottom of the page.
The event starts and finishes at Dromara Village Football Club. Sign on will be open from 8.00am, with the first riders away at 9.30am. The route for both distances is identical until the food stop in Leitrim.  More route info below.
Nominated Charity
Dromara CC are very pleased to announce that proceeds from this year's hilly will be going to The Mourne Mountain Rescue Team. For more information please click on the logo.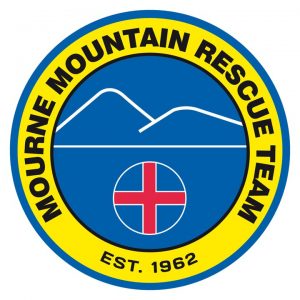 Food stop
At the mid-point food stop in Leitrim, there will be a generous spread of sandwiches, yogurt, fruit, biscuits, tea/coffee, energy drinks and water to allow the riders to replenish lost energy and fluids.  Remember to mention any special food requirements you have on the entry form and we will do our best to provide. Probably the best sportive food stop in the world.
The food stop will be open from 10.30 am to 1:30 pm.
Support
Both rides will be guided by motorcycle marshals. Professional mechanical support for the event will be provided courtesy of our partner Chain Reaction Cycles Belfast Flagship store, who are sending two mechanical support staff.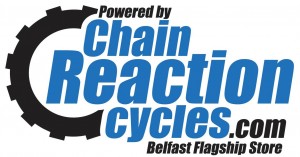 Dromara CC members will also be driving the route in safety cars to help with any problems should they arise.  An emergency number will be printed on each rider's armband should they need to contact the event organiser for any reason.
And at the end…?
At the finish, back at Dromara FC clubhouse, riders will be welcomed home with a well earned tasty Burger and complimentary tea & coffee. The public bar will be open and there will also be male and female showers to allow riders to change out of their cycling gear.
Start/Finish Location
Dromara Village Football Club (location) Sat. Nav. Co-ordinates – N 54.37118788,  W 06.01813563
Rathfriland Road, Dromara, BT25 2EB
Route information
The Hilly 85 –  The 85 "short" route follows a shortened version of the full 125k route, guaranteeing an authentic Hilly Experience!.  The first part of the route takes in the Cornmill, Dree Hill & Windy Gap. After the food stop in Leitrim the route returns to Dromara via the Legananny Dolmen.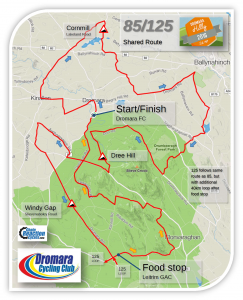 Hilly 125 – The original and some say the best.  This event is for strong cyclists and visits all the climbs of the 85k plus an extra 40k loop over the dizzying heights of Spelga Dam. This event remains a real challenge in every sense of the word, and really lives up to the name of the event.  Riders who are registered for the 125 route can decide to take the 85k route straight back to Dromara after the food stop if the weather turns bad or if the legs are not up to full strength.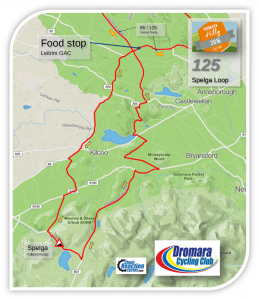 All routes will be clearly marked on the road in yellow stencilled markings, and all riders will be given a route card with turn by turn directions and an overview map.
Maps& GPS files
Links to Strava routes below:
Registered Strava users can export these routes as GPX or TCX files for uploading to GPS navigation devices.
How to enter?
Click the button below to enter online – Closing date for online pre-entry is 11th August 8pm, and cost for pre-entry is £15 for both routes. Online entries are limited to 250 riders, and all participants who register online will receive a goody bag. A limited number of entries will be available on the day at £20 per person. A minimum of £5 from each entry will go to charity.