Records tumble and future stars shine
From reading on the internet  I had heard that "Winter is Coming" in fact they have been talking about it all summer. In Dromara CC we are a club who care not about the weather although I may have suggested that Saturday was due to be 25 degrees with the Sun splitting the trees….in fact make sure to pack your sun cream. To start the day we had the Childrens Gymkhana that was held at St Micheals Primary School in Finnis saw a host of young stars take on several courses from limbo to slalom and of course fish tailing the rear down a mucky hill. All the children got a medal for completing the challenges and some sweeties.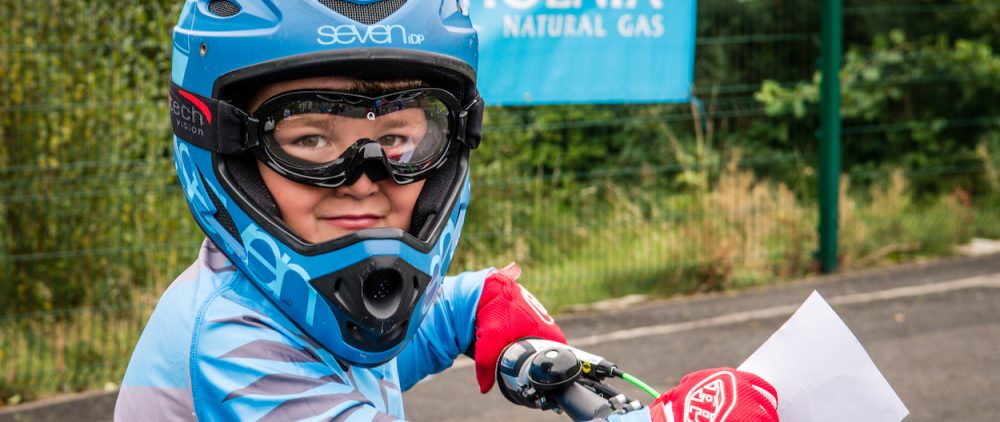 Many Thanks to Phoenix Natural Gas for stepping up to the plate and putting their backing to this event that is currently in its infancy. We hope it grows from strength to strength in the coming years and we certainly appreciate the offer to use St Michaels Primary School. I have no doubt their were several stars in the group having seen several boys and girls race down a greasy mucky hill lose the back end and correct it with a beautiful foot tap before putting the power back down that wouldn't have looked out of place at professional Cyclocross race. #bikeskills
Once the Gymkhana was cleared away it was time for the Slieve Croob Hill Challenge to be completed which is hard enough when the weather is with you but due to a double booking the Sunshine had another event to cover leaving a decent downpour instead. I am certain we will get that resolved for next year. The great thing is that if you only did events when they were dry you wouldn't be out on the bike too often. With both record holders not making it to the event this year we would have a new male and female winner and surely no one would break last years record of 15min 2 secs.
As the riders started to arrive the debate started as first Roger Aiken appeared then Darnell Moore followed by Lindsay Watson with James Curry creating a great discussion on who would win. Rumours that Roger Aiken demanded the gate at the car park be closed to force everyone to carry their bike are not true as we all know cyclocross doesnt start until next week.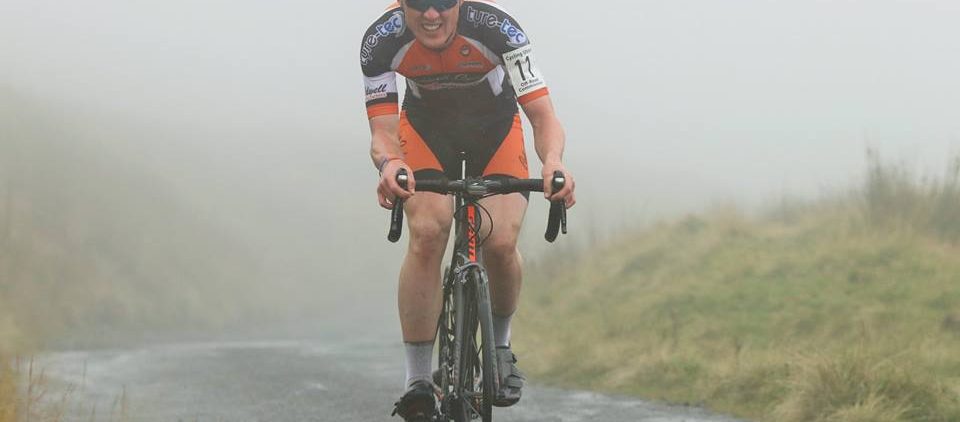 The riders took off from 2pm in 1 minute intervals into the depths of the mist to tackle Slieve Croob. At Dree Hill Car Park there was a large crowd that would cheer each rider on knowing the final climb up to Slieve Croob would see you Heart Rate Limits reached as the riders would "dig deep" to reach the finish line. As the riders came over the line we would find out that Darnell Moore from Caldwell Cycles would smash last years record and complete the climb in 13mins 37secs. In fact it was so quick the time keepers had to double check the watches to make sure there wasn't a mistake. The next rider would be Lindsay Watson in a time 14mins 48secs to claim another second place at this event. To complete the podium James Curry would appear out of the mist to miss breaking the 15mins barrier by 5 secs.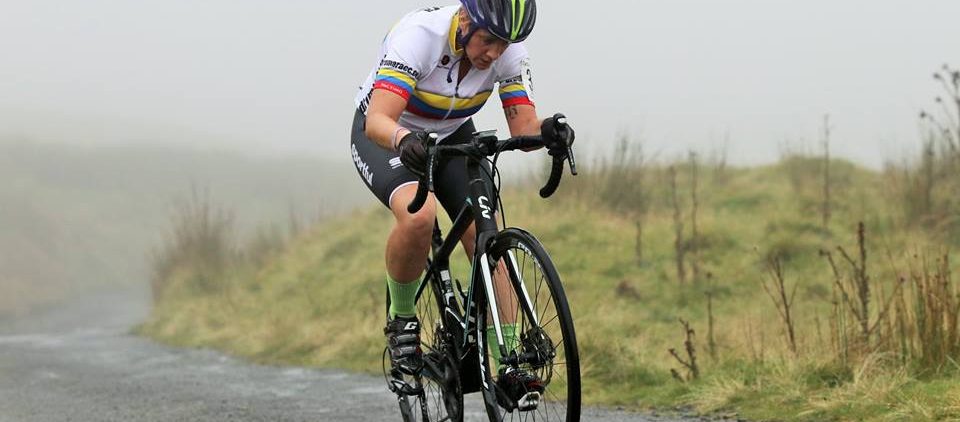 The ladies competition would see our very own Wannita Broome blow away the competition with a determined ride from start to finish and Dromara CC would take the second place with young Elizabeth Bradshaw put in an awesome performance considering she had never cycled up Slieve Croob before. Eileen McKee would complete the podium and her performance command complete respect considering she has only taken up cycling in the last 6 months.
With everyone finished it was back to the James King Pub in Finnis for the prize giving and of course the very important BBQ and spot prizes. All the prizes would be presented by Clarke Willie the Deputy Chairperson of Newry and Mourne. Many thanks to Phoenix Natural Gas, Mourne Cycles, Powerhouse, Abernethy Fudge, Protamino Nutrition, Dave Kane Cycles, Zak Hanna Massage, Bike 7, Carnebrooke Meats, Karen Flowers and Cafe Velo Magasin for supporting the event with their sponsorship. Naturally the unsung heros who marshalled/Help set up/time kept the event deserve the most thanks as without them this event wouldnt happen. I am sure i will miss someone in the thanks but Dromara CC look forward to welcoming everyone back next year for the Slieve Croob Hill Challenge when I am told it will be 25 degrees and sun will be out all day.
The full results can be found below and photos can be found at bronaghkirk.co.uk and Sharon McFarland Photos:
| | | | |
| --- | --- | --- | --- |
| Rank | Name | Club | Total Time |
| 1 | Darnell Moore | Caldwell Cycles | 00:13:37 |
| 2 | Lindsay Watson | Powerhouse | 00:14:48 |
| 3 | James Curry | ACR | 00:15:05 |
| 4 | Ethan Downey | Clan Eirann | 00:15:15 |
| 5 | Roger Aiken | Unattached | 00:15:34 |
| 6 | Sean McIntyre | Caldwell Cycles | 00:16:27 |
| 7 | Nathan Mullan | DCC | 00:16:35 |
| 8 | Donal Shearer | Phoenix CC | 00:16:41 |
| 9 | Jack Ferguson | DCC | 00:16:44 |
| 10 | Jamie Gregg | Dromore CC | 00:17:12 |
| 11 | John Heverin | Clan Eirann | 00:18:01 |
| 12 | Brandon Douglas | WDW | 00:18:26 |
| 13 | Aaron Watson | DCC | 00:19:19 |
| 14 | David Henderson | DCC | 00:19:21 |
| 15 | Neil Armstrong | DCC | 00:19:24 |
| 16 | Derek Graham | DCC | 00:19:44 |
| 17 | Graham McConnell | DCC | 00:20:02 |
| 18 | Ben Forte | UA | 00:20:11 |
| 19 | Simon Morrison | DCC | 00:20:22 |
| 20 | Darren McCann | DCC | 00:20:54 |
| 21 | Joe Henry | Cafe Velo | 00:21:02 |
| 22 | Alan Watson | UA | 00:21:04 |
| 23 | Richard Cowan | DCC | 00:21:11 |
| 24 | Brian Kellett | DCC | 00:21:37 |
| 25 | Danny OBoyle | Shimna | 00:22:14 |
| 26 | Mayrek Pyra | DCC | 00:22:19 |
| 27 | Pete Turner | Shimna | 00:22:29 |
| 28 | Darren Leaveslem | Apollo CC | 00:23:27 |
| 29 | Peter Downey | UA | 00:24:21 |
| 30 | Marcus Cromie | Shimna | 00:24:26 |
| 31 | Eddie Doyle | DCC | 00:24:55 |
| 32 | Stephen Phillips | DCC | 00:26:12 |
| 33 | John Garrett | DCC | 00:26:33 |
| 34 | Wannita Broome | DCC | 00:30:00 |
| 35 | Elisabeth Bradshaw | DCC | 00:36:19 |
| 36 | Trevor Magee | UA | 00:37:45 |
| 37 | Eileen McKee | DCC | 00:40:56 |