McCready shines at Harry Ferguson
When i left home the sun was shining and it looked great for a night of racing……by time I go to the start line the heavens had opened and everyone was hoping it would stop. Just a quick shower I heard a few people say.
With the marshals in place and time keepers at the ready the first group lined up ready to go. Groups are always difficult to gauge because the number of unfit riders/haven't been on the bike all year riders/ im not in form riders/ i'll be lucky to do one lap riders who seem to appear. So a large group 1 was formed with a certain Magowan claiming some poor excuse about being unable to ride with scratch. With laps set to 6 and the handicap of 5mins (possibily a bit long considering the conditions – handicap fairy position is currently advertised) the scratch group set off with all the fast boys and one noticeable absentee. Gavin was clearly feeling good and started a further 2 mins later.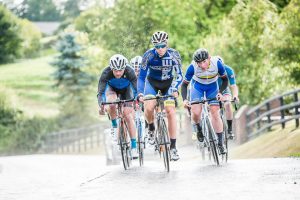 The first lap was fast and furious as always as Davy Broome and Gerard Doyle broke clear however the group managed to pick up another Magowan and it was altogether by lap 2. The pace was clearly telling as people got shelled out the back of both groups with the time gap coming back to 3mins with 3 to go. Lindsay Watson broke from the main group to start the last 2 laps but was hunted down by the main scratch group who now were settling for a sprint finish with themselves.
The front group saw Davy Broome again pushing the pace with a lap to go and it was Davy who kicked from the last corner only to bring the trailing group behind him. The race finish has a cruel kick and when the legs get heavy that kick feels like a brick wall. It was at this point that the stealthy McCready saw his opportunity as he hit the front to snatch victory with a fast finishing Gareth Woodall taking second by a tyre width from Neil Armstrong. The scratch group would be led over the line by Matthew Armstrong only a minute down on the winner.
A big shout out the marshals that stood out in the torrential rain and made for a very safe race. Marek for having to listen to young Irvine as he did lead car. Graham and Wannita for doing time keeper with Eva looking after lap board/bell and finish flag waving with a final big thanks to Martin Grimley holding everything together as always.
Results are below with the pictures on facebook or flickr