Tour of Omagh 3 day – How did team DCC survive?
Last weekend saw Darren McCann, Neil Armstrong, Brian Kellett and Johny Ward head off to the first stage of the Tour of Omagh Three day. Managed to get a few reports from them to give you an insight on how it went: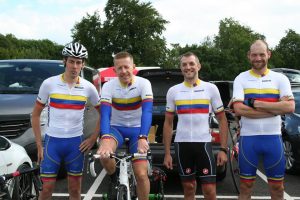 Build Up:
Ward takes tumble at Tommy Givan chipping the old elbow and generally complaining about stuff hurting. With the Three day closing in it was time for some light turbo work and staying upright…I mean healthy to get to the start line. Kellett and Armstrong tested out their racing legs by entering all races and TT's they could find and pretending they dont check out each others TT times. McCann went in search of a head wind he could ride into for hours on end until he fell over.
Stage 1 – 43 mile road race with the odd hill
Ward: So flag down and away we go building up speed with a strong kick and then settling into racing which for the most part was quite controlled although at times when a Car Down was called riders tended to grab a handful of brakes making for a bit of a accordion esk ride wasting energy so I decided I needed to start moving up the pack and after the first KOH I knew it was also best to be close to the front due to the technical left hander coming up with was also the start point of KOH 2. I rolled through and seen Darren and Neil just up the road and keeping a steady power on the climb made up yet more places and settled in to ave energy for the big KOH coming. The bottom of the Main KOH some riders went but I knew it was a long one and chose to wait until after half way up before launching a somewhat smooth attack and gradually passing the whole head of the race and with 300m to go broke clear. Unfortunately another rider had my wheel and came round on the line but that was ok it wasn't a
competition I had set out to do.
When we moved onto the Dromore Rd and the last 3Mi I had moved up to the third or forth row and was patiently waiting but as the pace quickened the pack became tighter and it felt really uncomfortable "For sure someone will come down in this I thought" and not long after we had the unmistakable crunch of carbon on tarmac just behind us. I managed to get right on the white line looking for the line it seemed to take an age to come and at 300m to go I wound up a somewhat "Hit & hope" seated sprint to make 6th place, but happier I made it back in one piece!
6th on Stage, 2nd in Mountains competition, 6th In Points competition but crucially that 6th place earns me 3 CI Points which brings me to 16 A4 points and therefore A3 Upgrade (15+)
McCann: Friday nights stage saw a 43 mile stage with the racing starting hard and staying that way throughout. Darren did his usual trick of hiding at the front of the race and unfortunately saw him stuck there with 5 miles to go and nobody willing to come around so ended up leading himself out for an 11th in the sprint. Johny opted to use his head and let someone else do the hard work leaving him fresh to take a superb 6th and enough points for him to wave goodbye to A4 on his first race of the weekend. Neil finished in the pack safely but unfortunately Brian was taken down in a crash in the last km. Rumour has it the mountain biker in him tried to bunny hop his way to safety. Luckily he was back up in no time and ready to race.
Kellett: Stage one on Friday I managed to do some work on the front and was well positioned on the climbs- the weather pattern for the weekend was set as the rain soaked us to the bone. Was still in contention as the sprint was opening and was moving up on the right hand side when a few riders went down and I couldn't avoid the bodies and bikes on the ground and got launched over the bars and down the road. Got up the bike was OK so finished and got the same time as winner as incident was in last 3 km.
Armstrong: Managed to survive saving myself to beat Kellett in the TT the next day and it was wet.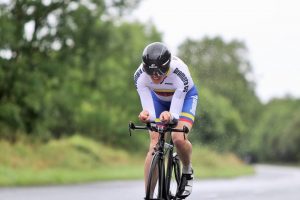 Stage 2: 2.5 mile TT
Ward: ITT time and given then 50/ 50 nature of starting the race I had not brought with me my deep section front nor Disc wheel and unusually I did not even shave my legs (about the only rider in the whole race I believe) but it was to be a short sharp 2.5 miler out and back on again wet roads so it was a matter of hit out hard and hold as long as possible. Off the line and the bike felt skittish maybe because I was shivering so much after having to wait 5 mins at the line totally soaked so I stayed seated until up to speed and then settled into a nice cadence and rode on feel the rain still bouncing. Up to the turn and on a 4 lane closed road it should have been easy to brake swing and then accelerate out but the turn was slow and laboured and then on building up the lost speed you were now on a slight rise to the finish area.
05:33:68 was my time  good for 21st!!
Now that left me in 20th GC and now 4th in Mountains after a recount on results as no KOH in a TT
McCann: Saturday morning saw an early wake up call in the form of a 2.5 mile sprint TT. Still bleary eyed from the night before, the rollers were called upon to get the legs moving again. Neil & Brian decided to continue their TT rivalry with Neil beating Brian by only 00:00.45 seconds on this occasion.  Though if you thought that was close, Darren secured and impressive 6th overall, only 00:00.27s back from 5th.
Kellett: Much pain! Right shoulder ligaments and ribs were main concerns. Was happy enough with the TT in the morning again very wet.
Armstrong: Beat Kellett in the TT – what do you mean he is injured? Thats just a scratch. Feeling unbeatable.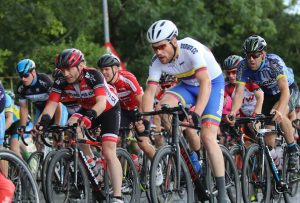 Stage 3: 46 mile "Flat Stage"
Ward:The "Flat" billed stage of the race was a roller if ever there was one and it was relentless from the start. With a small group trying to make a break the first few miles in the sun shot along before settling into a sustainable pace, things felt good at the foot of the first KOH I had managed to get up to the front left and was ready to wind the power up when I rider moved from the right and then slowed which caused me to panic and after repeated attempts to keep right I couldn't get out until 20-30 riders were now by and now throwing the hammer down on the short but sharp climb was to no avail as was placed about 10th but with a sharp descent someone made the call to ride on and ride hard. Trying to then recover whilst putting out a steady pace between
us was challenging and once we had swung back in the direction of Omagh the heavens opened and so much so you couldn't see more than 5 riders ahead and the pace eased off as a result but with nerves on a high the HR was still high. As we swung of the main road and back towards Carrickmore the hammer was dropped again and it was a case of chasing hard to stay in contact although after a few miles things settles down perhaps in apprehension of the pending
Main KOH of the day. We entered Carrickmore and I chose to go early and on my own went hard and broke free from the pack making a grave mistake when 400m from the finish point thinking that was the KOH point I had to speed back up again and again right on the line the same rider who had pipped me to the post had done so again. Much to the fan fair cheers at the sidelines.
But much to my delight I was the quickest overall on Strava and happy to come away with at least 1 KOM from the weekend! lol
Again we attacked on the same downhill as before and again went from sun into hurricane conditions with the wind driving the rain and spray somewhat like a shower head from the rear wheels infront. Rolling ever closer to the finish I had a personal marker point when to go but on moving up the pack I found myself in the leading edge in the wind and eased off to force other riders to go around me and then on the last 300m I moved right and wound up another seated sprint into clear air and managed to hold onto 4th place!
4th on stage, Now 1st in Points competition, Now 3rd in Mountains Competition and still 20th in GC
McCann: Saturday afternoon and normal service was resumed with a 46 mile "flat" stage that still managed to have nearly 200ft of climbing in it. It was a day to forget for Brian who's injuries started to tell and dropped off the pack as the pace lifted on the rolling roads. Darren didn't fair much better, a mechanical after the first KoH followed by a crash on a wet road left him chasing onto the pack for the majority of the race with a crippled bike. Neil obviously jealous of his team-mates antics whilst he was having a safe race decided to hook his brake hoods under another riders saddle in his sprint to make 9th place, though even then he managed to stay on two wheels. All that mountain biking must've done something to his bike handling. Johny in a superbly timed sprint took 4th and earned the right to wear the points jersey for the final day.
Kellett: I discovered in the afternoon stage that going really hard and the hard breathing that went with it was a problem as was climbing out of the saddle – the run in to the first KOH from the flag was over 25mph which put me on the back foot the climb had to be taken seated and ground was lost, out the back a group of 25 riders formed and rode to the finish 10 minutes down – disappointed couldn't do anything for the team but they were flying anyway.
Armstrong: Have i mentioned who i beat at the TT? Anyway everyone seemed to want to crash so decided to have a go at this sprinting lark. Thankfully Coach Davy B has taught me how to stay upright at all times so gave my all and took 9th place. Would have won it if 8 people hadn't finished in front of me.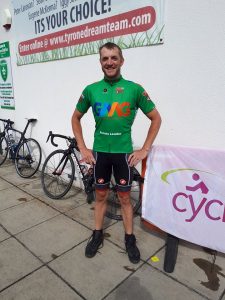 Stage 4: 44mile Road Race with 'The Climb'
Ward: Sunday or "Big" day was here and the looming thought of climbing Gortin was daunting but off we set with a somewhat spirited roll out this time which served well as a warm up (opting everyday to negate one) Flag down and boom the pace lifted on the way to Castlederg. It wasnt long before we were at the foot of the first KOH and as I was in the Green Jersey decided against really riding for the KOH today and as the climb steepened I found myself able to slip past about 40 riders and made the 9th rider to the top (perhaps this could have been a target competition) and then once into Castlederg it was a fairly steady pace as legs were starting to tell the tale of 3 Days on the road! The second KOH of the day was short but with the road ahead filled there was to be no slipping up the outside on this one and it became a skills act to stay clear of other riders who were swinging on the bars as fatigue took hold. As we approached Gortin there were a series of fast twists and turns and many calls had to be made for riders to hold lines as at those speeds coming down you would be from the inside of a corner to the outermost in a flash. Then we got the signal to turn off the main road and front of the peloton became eerily quiet and we had arrived at the foot of the Main KOH today and the weekend to boot. It ramped up and up and also the surface was not in great condition so much so that occasionally you could see riders spinning up the back wheel as the stood up to power on. I had not got to drive or pre ride the course so erred on the side of caution and left something in reserve hoping to contest the sprint but the main group got a slight break on the downhill section of the KOH and then on reaching the top I found myself alone trying to chase back on. This was now into a block headwind and slight downhill but they could not be caught even after having another rider to TT with for a couple of miles. But as we entered the last 1km I knew I was going to have to leave it all on the road today. Frustratingly on the final run in a Team car came on the right and matched speed so trying to make a gap to sprint from became hard and with 400m to go I went on the right and just wound it up to finish 30th far further down the pack than I had thought ahead on the road. But feeling delighted I had got to race despite all the odds and set backs  and to have come without the full on bike setup (climbing wheels only 32T)  and approach that I could still do well.
30th on stage, 4th in Points Competition, 5th in Mountains competition
McCann: Sundays race was meant to be an altogether more civilized affair with 120 riders all tired and stiff from the previous 2 days racing. Unfortunately everyone missed the memo on the 44 mile stage with a killer climb 30 miles into it. With Johny looking to keep his points jersey and Darren sitting 8th in overall GC, it was all to play for and the race took off faster than ever. Repeated attacks kept the pace high, so high in fact that the women's race which had a 20 min head start was caught by the bottom of the main climb. The 1.2 mile climb smashed the race to pieces and in the end, that's where it all went wrong. Darren was first over for Dromara, some 20 seconds back on the leaders, and pushed hard to get back onto the group but ended up losing further time on the treacherous descent with his newfound sense of self preservation after the previous days crash. Johny was next over followed by Neil who joined up with him to work their way to the finish line together.
The men finished 5th overall for their efforts, seeing off teams from all corners of Ireland. Not bad for a team with ¾ of its riders in their first season of open racing.
Kellett: i planned only for survival but managed to hang onto the bunch for first 40 miles the last climb was were the race blew to bits I was climbing a bit better than the previous day but had to pace it. The descent in very wet conditions was fast as was the run in. 3 days 4 stages battered bruised and quite wet but got through it finished 81st so not last and sort of enjoyed it – chalk it all down to experience.
Armstrong: Survived….have we mentioned the TT? Who puts a climb like that on at the end? Delighted to be in the 5th best team of the weekend.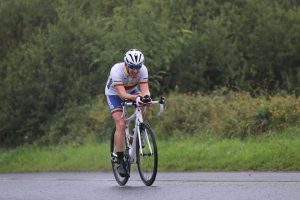 Final Thoughts from the team:
Massive thank you to all involved in sending the team and looking after them during the race. Especially thank you to Sy Morrison, Stephen Phillips, Matthew Armstrong, Aaron Watson, Calvin Moore, Robert McDonald & Kevin Walker who made the long haul up to Omagh over the weekend to drive in the team car.
You can photos from Sharon McFarland on Facebook and I have borrowed a couple for the report. I will finish with young Ward having the last word and a great example that having stage races for A4's is great experience for the riders looking to progress their cycling career. This experience will surely be invaluable and many thanks goes out to Omagh Wheelers for putting on a spectacular race.
Ward's Final word: So In a nutshell I postponed A4 racing to keep me in A4 long enough so that I could race the 3Day and first stage see's my upgrade justifying the effort. To ride in the Green jersey was quite special and quite a momento from such a big race yet you are the "Marked Man" and also gutted to have it slip through my fingers as a Top 4 finish would have secured it
It was also worked out afterwards that we came 5th in the teams. Many small achievements over the course of the weekend but hopefully I will be able to absorb the fitness gained to use in France for next months "UCI Gran Fondo World Championships"