Medals Galore at Ulster MTB Championships
It was quite a weekend of cycling activity at the weekend and on Sunday in Castlewellan the Banbridge Cycling Club held the Ulster MTB Championships. The weather was sunny/raining/sunny/raining/sunny so perfect conditions for the MTB. The competition at all levels was as fierce an I have ever seen it so you needed to be at the top of your game even to think about medalling.
The first race of the day was of course the U6's race where the young talent starts. Dromara CC youth saw Alexandra & George Chambers with Rylee Broome take to the start line and all of them made it around the tough little course although I cant confirm or deny if haribo was the provided at the end. It was very much deserved.
The next race with Dromara CC representation was the U8's girls race that would see the ever improving Aoife Kellett take to the start line with Coach Kellett nervously spectating. This is the first U8 championships for Aoife and she put in a sterling effort by putting a blistering start to mix it with the race leaders on the first lap. By the second lap the top two girls Emer Heverin and Aoife Craig managed to get a gap but Poppy Hamilton and Anna Morris were hunting down young Aoife. With a final push Aoife stormed into third for a well deserved podium position.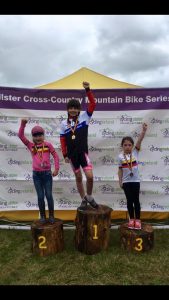 The U10 girls race would see Lexi Broome put her tyre on the start line. For those that think the underage courses are like a flat field should probably have a go. With plenty of climbing and a descent thrown in it really tests those bike skills. Lexi went on the B of the bang and produced a great first lap to move into second place and on the second lap she held the same pace. Alas Lexi would miss out on her second place by only 11 seconds to claim a fantastic 3rd place and a bronze medal to take home.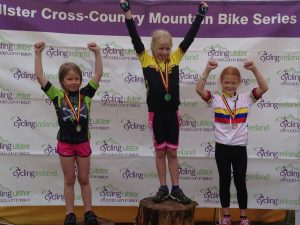 In the U10 boys race James Armstrong would take part in one of the most competitive categories. To get some insight into how the race went he said "I had a good start and was going well with a quick first lap on a good twisty course. A steep hill seen me lose a few places over the following laps. 9 seconds separated 6th to 8th. I finished the race in 8th. I felt I had went as hard as I could go. Now looking forward to trying cross on my new bike! ". He is not wrong about the hill being steep although he does sell himself short on the report – after the first lap he was mixing it with the podium boys and after lap 2 he was still in touch but that hill can suck the life out of your legs and he would loose touch of the podium places. With 9 seconds just separating the next few boys I'm sure he will be one to watch at the cross races this year.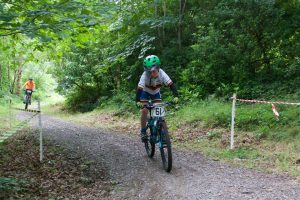 Ben Wilson loves a technical course and having seem him fly down part of the course on Friday night it was only matched with his performance on the climb. It seems he just gets quicker and quicker these days in fact even his dad is having trouble keeping up with him. With no expectation on his shoulders he smashed the course to leave him clear for a super second place. Just to put his lap times in some perspective he would have been in the top 10 mix in the senior race with the lap times he was producing.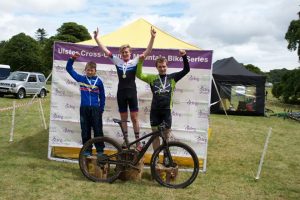 Wannita Broome has been putting quite a bit of secret training and claimed she was "just making up the numbers". After the first lap it was clear that she was doing more than making up the numbers as she put in a powerful first lap time with Ruth Aiken looking to hunt her down on the last lap it was looking touch and go if Wannita would be able to hold her second place. With the finish line closing Wannita made a final kick to hold off Ruth by a mere 5 seconds to capture her silver medal and her podium picture.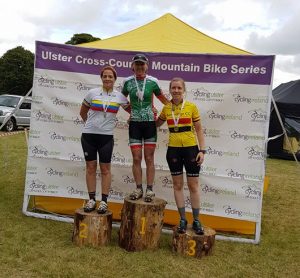 That leaves 3 races left which are the M30's, M40's and the senior race. In the M40's Brian Wilson would lead the line for Dromara CC and try his best to go faster than his son. Alas it wasn't to be, but on a technical course he excels and he will be delighted with his 8th place. In the M30's Davy Broome was feeling confident and Graham Smyth was eager to go. On the first lap Davy showed the form he was in by sitting in second place and a mere 15 seconds of first place. The joys of MTB racing is that you need to be technically good, fully fit and of course a decent slice of luck. Unfortunately Davy ran out of luck and would puncture on the second lap leaving him almost last by the time he made it to the pits for a new wheel. Back out and chasing he would battle through the riders to pick up a 5th place  with Graham showing he is starting to get better and better at this MTB stuff with an awesome 8th place.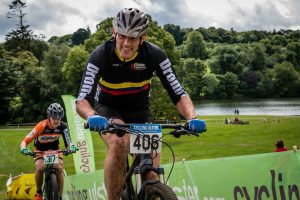 That leaves the premier race of the weekend with Barry Kellett taking off his coaching jacket and pulling on his racing jersey. David Montgomery and Lindsay Watson would battle it out for first and second with David finally pulling clear but third place was up for grabs with Graham Boyd, Roger Aiken and Barry battling it out. With the laps counting down Roger would pull away to secure the third place with Graham taking 4th and Barry completing the top 5. Its hard to describe how fast the top 5 MTB riders in Ulster were travelling at but it was very impressive to watch.
Finally many thanks to Banbridge Cycling Club for yet again putting on super event. If you are looking for a few photos you can find them here.