Kellett takes win at McConvey Cup
The Dromara CC cyclocross competitors were out competing again this Sunday and thankfully the weather was kind this weekend. The venue for this week was Lady Dixon Park and depending on the weather it can be a muddy course with hidden tree roots or a savagely fast course tests all your technical skills to hold speed. Although the rain was about all week the course had dried up and would be a fast lap.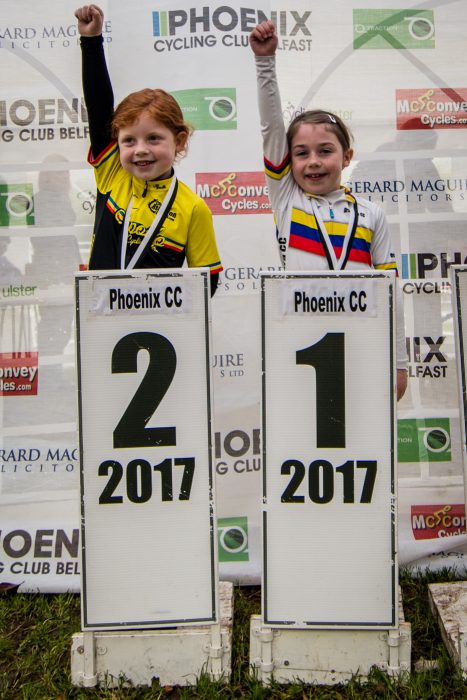 The Dromara CC Junior squad as always are first up in the U8's Girls race which would see Aoife Kellett and debutant Eva Cowan start. Its not an easy race when the climbs are muddy and you have to get off your bike to run over the barriers. Aoife has been in great form this year and has been knocking on the door for a win. Today was the day that young Kellett would stand on the top step of the podium as she took off from the start line and would lead the race from start to finish. Eva having got caught up in a first corner crash battled through to take 5th place and was delighted to complete her first U8 race.
In the U8 boys race we had another debutant as Eoin Foley showed his bike skills as he battled around a tough course and made his way through the crowd to take 19th. This is a great result considering such a large field of experienced riders. Things are looking bright for the Dromara Junior squad
Young James Armstrong has been very consistent this year and he continued that trait with another superb third place on the podium in the U10 boys race. He had a great first lap and there was a mere 10 seconds splitting the top three just showing how close a race it was.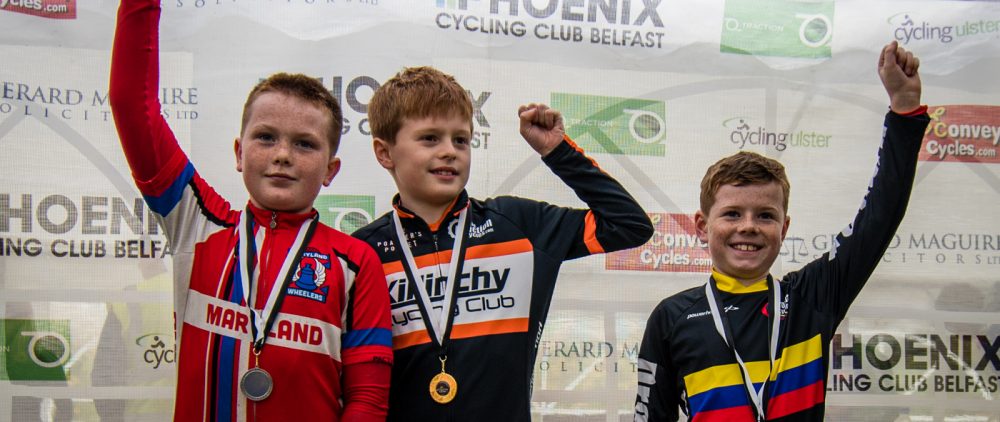 In the U16's race they had to race with the B cross race but Fraser Harrower and Ben Wilson showed no concern as they both battled around the 3 laps with Ben taking 4th place and only just off the podium postions and Fraser taking 6th place which i reckon is his best ever performance in U16's.
In the Ladies MTB Support race Lisa Millar pulled all the stops out and produced a great ride to take top spot.
The Cyclocross B race would see 7 Dromara CC men take to the start line and a bad crash would see Neil Armstrong fall out of the top 3 but get back on his bike to take 8th place. Jack Ferguson having won last week still had to make his way through the crowd and this proved too much this week as he claimed 4th place and agonisingly 8 seconds of a podium. Paul Mawhirt certainly looked happier on a drier course and would finish well up the field in 28th with Mike Barton, Bryce Hetherington, John McGuigan and Aidy Booth all putting in very strong performances.
This would leave the final race of the day being the Cyclocross A race with Barry Kellett, Richard Cowan and Graham Smyth taking to the start line. The race was fast and furious at the start and never seemed to slow down until the finish. Barry Kellett was at the sharp end of the race and would battle with David Montgomery, Thomas Creighton and Graham Boyd for the podium positions. There was very little to separate them but David Montgomery would create a gap and take the win with Barry taking 4th place after putting in a spirited fight. The rest of team Dromara would see Richard Cowan coming 25th and Graham Smyth taking 30th making Dromara CC third best team on the day.
Many thanks to Phoenix Cycling Club for yet again putting on a tremendous event with top quality food to match. Also credit to Toby Watson for the pictures of the event.