Dromara CC sparkle at Last round of Ulster CycloCross Series
Its hard to believe that the Dromara CC crew headed to Donard Park on Sunday to take part in the last round of the Ulster Cyclocross Series. It seems like only yesterday people were talking about needing more training/fitness/skills for the start of the cyclocross season. Shimna Wheelers put on a testing course for all the riders including a nice sandpit to tackle.
It was a very chilly morning but that didnt stop the hardy Under 6's kicking the event off followed by the Under 8's. This would be where Dromara CC's Aoife Kellett would cement her tremendous season with a 2nd place. As always Dromara's James Armstrong who has also had a great season would battle hard for a podium spot in the Under 10's. James has a masterful start always going the B of the Bang and he got stuck into a tight battle for top spot. With the laps ticking down he would produce a great last lap and snatch 2nd place.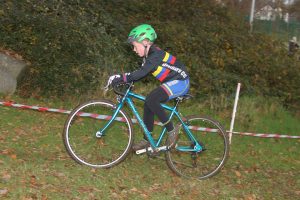 The Under 16's boys race is a tough and competitive race and it takes a competitive person to even to put your wheel on the start line. Thankfully Dromara CC have two of the very best to take on the challenge. Ben Wilson was already talking about the 2018 MTB Season as he checked out the course. Fraser Harrower was looking forward to this course with the draggy uphills. Both lads put in a great effort and Ben would claim 5th place and running out of laps as he hunted down 4th place. Fraser would put in one of his best performances this season on this fast slippery course and take 7th place.
Mick Foley who has been flying the flag for Dromara CC in the MTB race was putting in a battling performance to take 5th place with 4th tantalisingly close. The Ladies race would see Diane Wilson back on the saddle again and battling it out with several ladies for the top spot. With a slow start Diane would have to work her way back through the crowd but would run out of laps to reach the podium and have to settle with 6th place.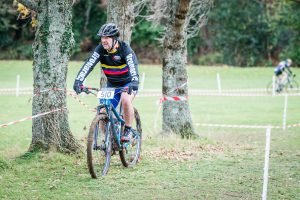 The B race would see a tribe of Dromara CC riders take to the start line. Plenty of opportunity for bragging rights to be secured for the end of season. Brian Wilson who has been producing excellent performances over the past few weeks showed that his secret training has paid off with 6th place. He was been hunted down by Darren McCann and Paul Mawhirt as they battled each other as Darren would take 10th place and Paul 11th. Adi Booth would take 15th place with Robert Davison 17th and Brian Kellett 18th meaning 6 Dromara CC riders in the top 20. Mike Barton has been slowly getting better and better in each race and took 25th place today. John McGuigan took 39th place as he looked delighted to have completed his comeback.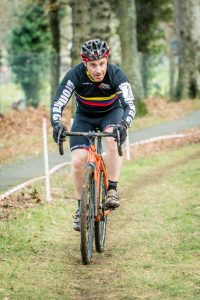 In the A race Barry Kellett would get back on the podium with a hard fought 3rd place. Behind him Jack Ferguson was getting well settled into the A race as he claimed 26th place with another B racer Neil Armstrong showing he has also settled in the A race taking 28th place. Graham Smyth was back in the cyclocross scene again and would but in a strong performance to take 38th with Richard chasing him home in 39th place.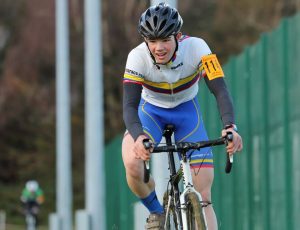 Many thanks to Shimna CC for putting on a professional run course as always. With the Ulster cyclocross series over the Ulster Champs take place next week before the final cyclocross race being the Nationals in January.
Finally it was a great pleasure to finally hand over a cheque of £2000 to the Mourne Mountain Rescue Team. This money was raised at the Dromara Hilly this year and Dromara CC would like to thank everyone that took part and helped raise this much needed money for the Mourne Mountain Rescue Team. It was Dromara CC David Hawthorn that has had to call on the services of the MMRT and we join him in his delight to give something back.