Kellett takes Victory at Bellurgan XC
Sunday 25 June 2017 saw Round 4 of the Irish Cross-country Mountain Bike National Point Series being held at Bellurgan Park near Dundalk County Louth. Hosted by Cuchulainn Cycling Club. The Dromara CC MTB squad sent a few members along to add the already quality field of riders. As most you might be expecting the headline suggests that Barry Kellett has managed to find his mtb shoes and sneak an unexpected win. That assumption would be incorrect as Aoife Kellett stole the show with a fantastic performance in the under 8's to take the win from Lucy McCarthy (MBCC) and Rachel Irvine (Unattached). Naturally the Kellett's victories are never easily obtained and this one was hard earned with Lucy McCarthy pushing Aoife right to the line. A brilliant ride from Aoife saw her dig in on the third and final lap to take the victory be a mere 4 seconds. Rumours that she might be Dromara CC MTB's saviour are too early to say.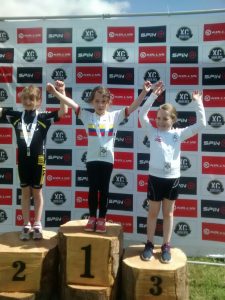 Mick Foley has been showing great form all year and is getting faster and faster everytime he heads out on his MTB. Mick was unlucky to not make the top 10 of the S4 race and had to settle with 11th. Adi Booth had a great ride in the S3's getting quicker every lap and apparently would have made the podium had there of been one more lap, alas he would finish in 24th place. Davy Broome, more noted for his road cycling this year, graced his presence at the S2 race and did not disappoint with a great 9th place. That left Barry Kellett with all the pressure on his shoulders to produce a wonder ride for a podium to at least have some bragging rights for the way home. Starting at the back of the grid didnt help things and battling through the crowd was impressive to see him snatch a 9th place. However it looks like McDonalds is on Barry for the way home.
A huge thanks to all the hard working volunteers at Cuchulainn CC for putting on this excellent event.