For those that don't know last weekend was the Irish National TT/Road Championships held down in Wexford. Its all very well watching these top cyclists race around the roads at the Giro or the Tour but it is very different to put your wheel on the start line beside them. Flying the flag for Dromara CC at the Irish National Road Race Championships was our very own Nathan Mullan who not only started the race but delivered a super performance to take 41st place. I thought it would be nice to throw a few quick fire questions at Nathan just to keep him sharp and give us a flavour of the National Road Race.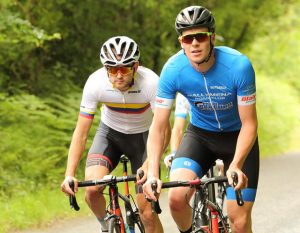 Q1: How many National Champs have you done to date
Ans: This was my 3rd attempt at the Senior National Road championship. I had always done the A3 national Championships.
Q2: Is this the best quality field you have seen at the National Road Races
Ans: I think this year would have been the best quality field with the likes of Ryan Mullen, Nicholas Roche, Sam Bennett being here plus with the on form riders like Lindsey Watson and Chris Mcglinchey. 
When you see a name like Roche on the start list you know it is going to be a hard race day.
Ans: Heading into the champs my goal was to purely finish the race within the time limit. The first year I missed it and having to pull out last year due to illness I knew that I needed to set a reasonable goal.
Ans: I feel it went well. The pace at the start was savage. Very early on it was tricky after a rain shower it made it slippy. This caused several crashes and made alot of splits. From there on it was a day of chasing. Eventually I found myself in the second group on the road. We tried to chase down the main group but no matter how hard we rode the gap kept going out. From about lap 4 we realised the target was to get around within the time limit. As the day went on the legs got sorer. With lack of fluids I wasn't far of cramping but I was able to keep pushing to stay with the group I was in. In the end I managed to come home 41st overall out of the 122 starters.
Q5: I would say you smash that goal. yes?
Ans: Wouldn't say I smashed it as I came in 18 minutes down but I'm very happy to have finished as high up as I have. Having been sick with tonsillitis the week before and then having a mechanical at the Noel Taggart I didn't have the best preparation for it. So with that in mind I'm chuffed with how it went and I'm hoping I can go even better next year.
I am delighted to see the Dromara CC Road Jersey in full few at the Irish National Championships and hopefully an inspiration to any young riders who want to test themselves against the best. Looking forward to see what you can do next year although I hear that you are looking after the Newry 3 Day riders this weekend so good luck with the new position. It truly was an awesome performance so much kudos hard earned.
Thanks to the Belgium Project for the photos